AI offers a wide range of uses in content marketing. However, AI is not projected to replace human skills in text creation shortly. Software is not an option if you require the unique skill set of content authors. You will still require the skills of skilled content writers. Nonetheless, artificial intelligence can help with strategic planning and design.
You can enjoy significant benefits in this aspect by adding AI tools to:
Determine relevant issues.
Create and analyze keyword strategies.
Customize material, extract insights, and assess outcomes.
Perform proofreading and editing of content.
Market intelligence is based on gathering information and interpreting the findings. Both jobs are difficult and time-consuming. AI enables us to accelerate these operations while avoiding data manipulation errors. Google Analytics capabilities, which allow you to collect and visualize data, are highly recognizable to digital marketers. This, however, is only a small portion of what AI can achieve for content marketing. You may keep track of tags on a website or application by installing the Tag Manager functionality. This includes tags in Google Ads, Google Analytics, Floodlight, and third-party applications.
Pros & Cons of AI in Content Writing
AI is unmistakably altering workflows, data analysis, procedures, and entire industries. However, like with any new technology, there will always be disadvantages and hazards. What are the advantages and disadvantages of AI in content marketing?
Some of the pros are:
Increased Efficiency: When AI generates content for you, it takes far less time to create. AI can provide ideas to help with writer's block, allowing things to be completed more quickly.
Improved quality control: AI will automatically detect and rectify errors, so there will be little to edit or fix before publishing the article. AI can also predict what you will write, possibly even better than you could have spoken it.
More information: Marketers can post more content than ever because of faster, higher-quality content. Moreover, as there is more content, there are more opportunities to interact with new audiences.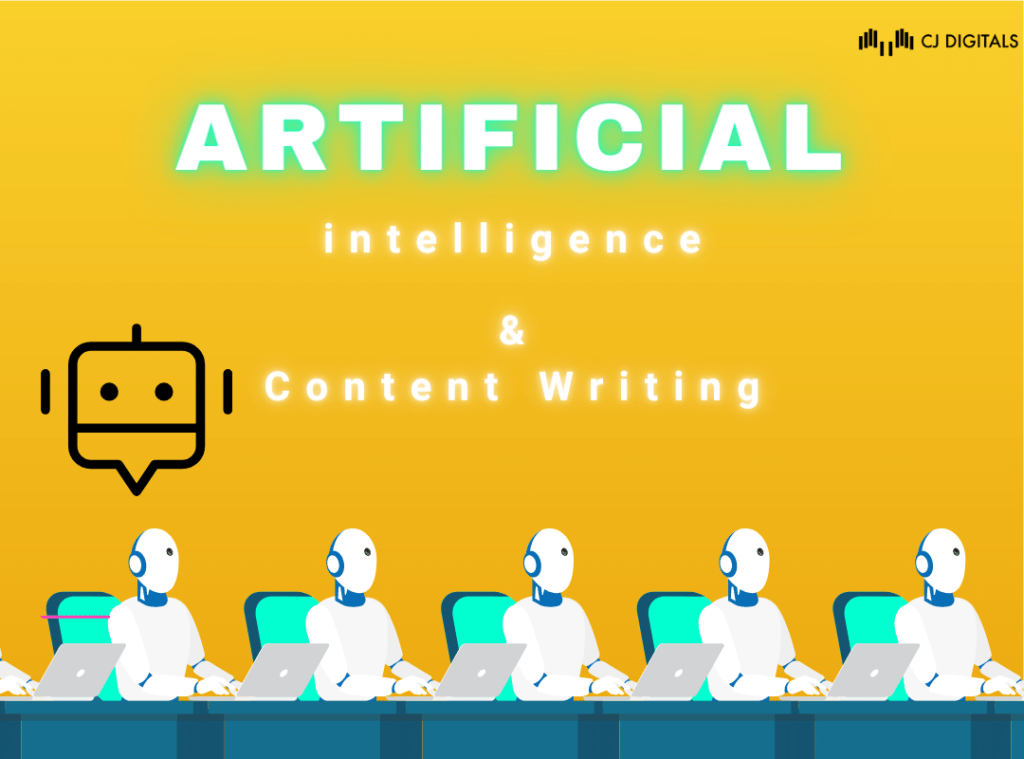 Some of the cons are:
A lack of imagination: It's practically hard to give AI-generated content a more personal touch. It may lack human inventiveness when creating something unique and engaging.
Excessive reliance on algorithms: AI uses algorithms to generate SEO-friendly, well-written content. Nevertheless, as any writer knows, they are not the only variables contributing to a superb writing piece.
Fewer opportunities for writers: While a big shift has not happened yet, using AI to create marketing content could eventually mean that many writers are out of a job.
The absence of nuance or context: AI tools cannot, in a sense, read the room. They may be able to mimic a specific tone of voice, but AI cannot employ the intricacies of language that make it fascinating or the context that makes it important.
At present, the possibility of machines replacing content creators appears remote. Content writing is an activity that involves both technique and a high level of imagination and creativity. Even computer-generated writings, such as automated email responses, may necessitate human correction. However, there is no denying that artificial intelligence speeds up and optimizes the content-authoring process. For starters, artificial intelligence tools enable you to automate monotonous work, giving writers more time to focus on more strategic responsibilities. Activities that were previously inefficient can now be carried out by AI-powered software. This comprises data, input search, and analysis to design tactics or optimize and personalize content.
What does this all Imply for Content Marketing?
It is crucial to remember that whenever AI-powered technology is released, humans quickly fear that computers will take over their occupations. However, marketers may integrate AI tools into workflows to boost content rather than replace authors entirely.
Finding the appropriate balance implies that humans and AI are collaborating. Content can be improved and produced more quickly, while humans can intervene to add originality and distinctiveness to your brand. Editors must still verify content before publication to convey the appropriate tone and sentiments. Humans must continue to play an important role in article research.
So, AI should be utilized to augment and supplement the content creation process rather than as the main source of text.

AI tools can also be used to measure and evaluate the performance of parts and promote them. AI in content writing and marketing is now utilized to spot trends and evaluate user behavior. In summary, embracing AI tools is a step toward viewing technology as an ally capable of streamlining workflows. It is the combination of human skills that will enable us to achieve greater success in ai in content writing.