Social media today has become the best way to engage and communicate with potential customers. Moreover, in order to help you to connect to your audience, CJ Digitals, as a content writing agency and a digital marketing agency, help you carefully craft your social media posts using creative content that can fire up your presence. We have a creative team of social media content writers who craft compelling social media content for your brand and within your budget!
Additionally, since we work as a content writing agency and provide web ranking services in India, we provide high-quality content without making any compromises and assisting the development of digital marketing content.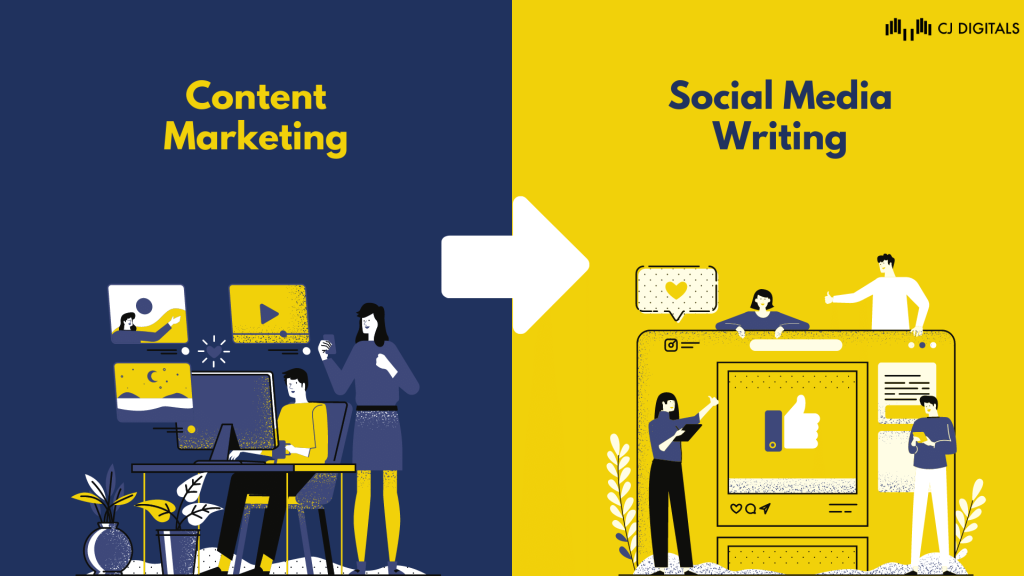 Know More About CJ Digitals
We have a group of skilled social media writers who concentrate on producing large-scale projects for lengthy projects and a wide audience. In order to produce versatile content that engages with fans and followers quickly and helps gain more traffic to the social media platforms. Our creative writers can provide unique, error-free content on a wide range of themes, including e-commerce, industrial specialties, technology, academic writing, sports, news, health, and much more.
Everything is planned out beforehand by our talented content writers to create content that sparks social media engagement. Our professionals produce likable and shareable content. We have the capacity to produce incredible content that has a strong likelihood of going viral on social media and also create unexpected and enjoyable social media advertisements for your business. Not only limited to that, but they also hold expertise in deploying social media campaigns, handling social media accounts, and cross-promoting them.
Benefits of Joining Hands with CJ Digitals
By joining hands with us, you, too, get the benefit of getting served by a strong content writing crew that is aware of your objectives to produce high-quality material that matches your high standards in the market. Our writers constantly improve their content writing abilities, and we supply social media content to our customers at scheduled timings for better reach. Not only this, we have professionals in this field who are very knowledgeable about content marketing. Therefore, you only receive content of the highest caliber at CJ Digitals.
Thus, in order to promote brands on social media, we offer 100% original and creative material.
So hiring CJ Digitals is truly going to be useful for you in distinct ways:
You get professional writers- We hire talented writers means delivering content that will grow your business and take care of your writing needs professionally.
You get original content- To keep your company ahead of its competition and to capture your prospects' attention, we give you content that is relatable and easy to understand and share.
Free multiple revisions- We provide unlimited revisions without picking a hole in your pocket! Thus allowing you to sit back and get your corrections done with ease and in less time.
Transparency- This can help capture your customers' interest in your website as soon as they load the page, leaving an impression that sets your company apart from others.
So, as a digital marketing agency, CJ Digitals, our primary motive is to provide good quality content that can help you provide web ranking services in India as well as SEO services in India. This makes it possible for you to acquire unique, plagiarism-free social media content that can engage the audience.
Furthermore, in accordance with social media content writing, we also work as a content writing agency and provide you with a variety of content writing services in India.